The function, helmet 防暑, the shade and the 遮熱 cover which get cold! The best for the measure against heatstroke of work under blazing heat!




It is a succeeding article of メットカバー SU and HO-21.
Doesn't the lingering summer heat only become getting tired and resting at the severe spot?
I dip in the newly developed high water absorption fiber inclusion and water, and it is evaporation heat (evaporation absorption fever).
The back of the head gets cold and I am useful for relief of feeling languid by heat also under blazing heat.
How to get tired also for the prevention from fatigue from the summer heat and health is different.



The structure of generating the power (evaporation heat) of natural water effectively is patent acquisition! A full-scale chilling effect is large popularity!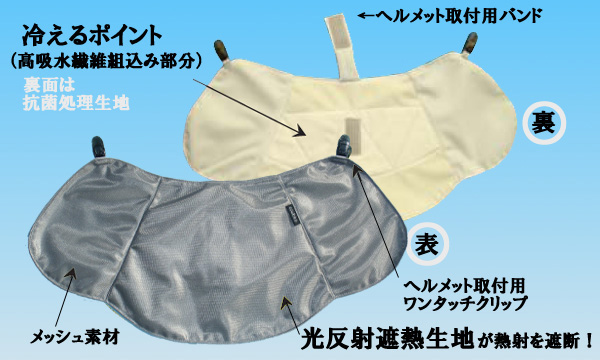 As well as summer, from spring, I apply in summer and autumn and can use, being able to attach to a helmet.
Attachment in a band is free with a clip.

The back of the head gets cold in the construction work under blazing heat for several hours, and I become a measure against heatstroke.

Moreover, I also become a measure against mitigation of fatigue from the summer heat by the long working hours in the inside of heat.

I use ice water of a cooler box.
Usage is increasing rapidly at the spot!



Do you know? On the bottom helmet of blazing heat
I become about 60 degrees.
Intense heat of midsummer not stopping!
Sudden sunstroke The shape of heatstroke!
To labor safety and health care administration in intense heat and the lingering summer heat
400,000 or more people of former helmet work
There is a use track record.

Most companies and the visitor of a corporation
By beginning trial It is after 購 partly.
Additional purchase is immediately carried out per place of work.
(Please look at the following buyer's comment)
People that I cannot part with it once it uses between summer.
Almost.
If it uses got dry, "I will serve both as sweat, り, and keeping warm."
Also those by whom I am used all the year round from winter.

The effect which gets cold is quite obvious! Internal difference in temperature

More than abbreviation-10 ℃

A difference in temperature in case Japanese 射 is equivalent to the back of the head under blazing heat, and the difference in wear have a clear possibility that a big difference will arise in fatigue from the summer heat etc., 1 eye.
ビルダー un-wearing.
ビルダー wear
I measure by thermostat ビュアー.

In maintenance of the effect which gets cold
One season (about three to four months)
Exchange after の使用
We recommend you.

The high water absorption fiber inside the structure which gets cold
Water absorption performance is the number of times of wash.
About 100 to 120 times
In order to begin to exhaust by a grade
■ Comment of the buyer of coolbit builder series;
- I place an order about two years ago, and am using it with the garden tree still now.
I get cold in summer, suck up the sweat of the back of the head quickly in winter, and find it useful with year-round. To a newcomer
I placed an order by six-set addition again this time in order to let it use. (Mr. Higashi-Kurume-shi, Tokyo S.K)

- Use by work with an incinerator. I use for water coolbit ビルダー which is hell on the 1st in summer, wetting it repeatedly. I feel that how to get tired from before is different. (Osaka office workers)

- I would like to advance to a master working in a company. In addition, I think that it is good also for a father-in-law using at the time of agricultural work.
(Mr. Oita Ono A.N)

In addition, the buyer's comment are here.

Many inquiries from the method of the Madam to whom a building company worries about the health of the master who works outside under blazing heat from the first are also brought near.
Moreover, I have obtained introduction to repeat purchase and an acquaintance from many people who used the coolbit.