Have you ever experienced that your back neck or cheek is extremely got sunburnt in the fishing at river or sea? Strong ultraviolet rays due to the ozone hole by the extreme sunburn are said to cause the skin cancer.
This sunshade cover can be easily attached to your cap, prevents the sunburn of your back neck or cheek, and further makes the head cool by the heat of vaporization for the long time.
Ultra fiber absorbing water is used after being soaked in the water and attached to the sunshade cover. You can enjoy fishing by the vaporization heat of the cover which makes you cool and comfortable for the long time. This product is indispensable for fishing at the sea or river in the spring through the summer.
iPatent P.9-1701108,Design Patent 985740,International Copyright registered (C)KOBAYA 1996 JAPAN)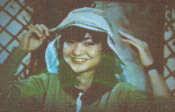 This product, "COOLBIT Fishing" has been introduced by the TV programs in Japan since it is a product of preventing UV which may cause skin diseases and features the convenient cooling sunshade over. You can buy by mail oder(Sold only in Japan)

Catalog hereI(sorry now Japanese only)



Soak the covering head portion in the water for about 1 minutes and wring it lightly. Repeated use after the washing is available. The left photograph is Cooling Sunshade Cover, "COOLBIT Fishing" from the front.

The back of the cover is made of fashionable design and cheek portion is detachable. It can be detached in the outdoor.

2 coler designs
COOLBIT fishingG light green; CBF-8RG
COOLBIT fishingG corky ; CBF-8CG



The photograph is viewed from the side wearing it on the hat(cap). It features round design of the cheek cover so it will not obstacle your eye, and prevent the sunlight from the side and extreme sunburn caused by UV.

This is linked to the homepage of recent increase of UV, UV's danger to the body and its prevention.
1) Sudden increase of UV(Japanese only) (linked to the related explanation site)
2) Ozone hole far up in the sky(related explanation page,japanese only)


We seek overseas distributors.
All contents described here are registered by the copyright.


This product has been introduced in this homepage as the invention of an individual inventor and is made in cooperation with a manufacturer.
If you as a wholesaler or distributor are interested in the product, please contact us.
Return to the top page of "Sunday Invention Gallery".